I really like having handmade things on hand to give as gifts, especially when someone needs a little pick me up. I have found these little crocheted tissue covers are the gift that keeps on giving that hug.
Last summer I needed a little something to give a group of ladies and so I used my "Pocket Tissue Cover" pattern and made several one afternoon. The ladies seemed to love them and I see them pulled out during meetings every once in awhile.
Because these take very little yarn and whip up quickly (in less than 30 minutes) these are definitely something to keep in mind when you are looking for things to add to your gift stashes, craft fair items, teacher gifts and stocking stuffers.
POCKET TISSUE COVER
Click HERE to add to your Ravelry favorites.
Skill level: beginner with basic crochet skills
Materials and Measurements
Yarn – worsted weight in one or two colors
Crochet Hook: I
Miscellaneous: yarn needle, package of pocket tissues
Gauge: not important for this project
Pattern: I used my free "Pocket Tissue" pattern to make these. I changed colors every 2 rows.
Pin To Save For Later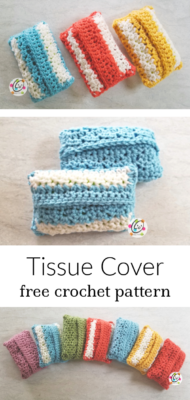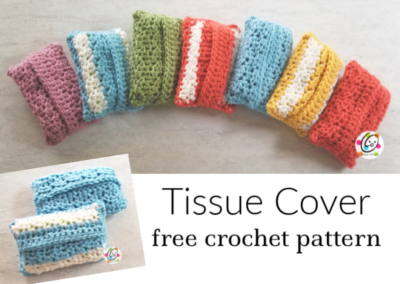 A Whimsical Option
If you have a little more time, you might want to try my "Tissue Peeps". They definitely will make people smile.