I've teamed up with some very talented people to share crafts and crochet for everyone, yummy foods, activities and more throughout this month. New things will be added often, including some fun challenges and giveaways. Please subscribe to our daily email so you won't miss any of the first Snappy Summer Camp. Click on the "summer camp" link at the right for all camp posts.
Theme for this week: Going Buggy

FREE for this month only 
"Bumble Bug Set" is one of my favorites when I need a quick gift. These have been made for birthday party treat bags, teacher gifts, just about everything you can imagine.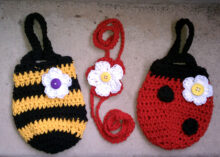 I love ladybugs. The red and black are so fun together and I usually add a little daisy for more color. I also live in "The Beehive State" of Utah, and our local high school mascot is a bee so I make a lot of them.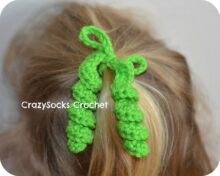 Today's featured crochet for kids is this pattern for Hair Spirals by Danyel Pink Designs. Similar to our "Wiggly Giggly Bugs" this would be a cute bookmark or package tie too.More easy things to try:
Cotton Finger Knit Bracelets – Our first craft for kids. Thanks to Fiber Flux for this cute and free pattern.
Earbud Covers – crochet around the chord on your earbuds to keep them from tangling and looks cute too. Plus, if you use plastic lacing its easy to clean. Thanks to Moogly for this fun idea.
Join our fun challenge each week. This week we are making "Wiggly Giggly Bugs" and BUG BLASTING! You will need yarn in your favorite color and any size crochet hook (size I or larger will be best).
Take pictures of things you try during the camp. Share them on our facebook page for a chance to win a summer fun family pack!

Oh my goodness, look at this Buggy Brunch Donna at "You Drive Me Crafty" made especially for our summer camp!!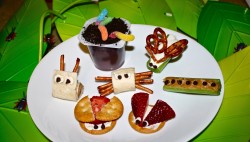 Stay healthy and avoid sunburns by always having sunscreen. You never know when you will need it so clip one of these Crocheted Sunscreen Holders to your beach bag, backpack or diaper bag.
Crocheting For Dogs Is Fun
There are a lot of great crochet patterns for our pets too. It is important to make sure the things we make for our furry friends is also safe. Sara from Posh Pooch Designs Dog Clothes offers some tips.
"Never Give a puppy loose yarn or string, or toys with loose yarn or string. The string can be a choking hazard or it can get swallowed and again get caught in their intestines."
---
Kids Crochet Classes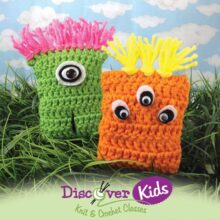 Thanks to Our Participating Shops