Last week a lot of our campers made wiggly bugs and and went Bug Blasting (yarn bombing). It was fun seeing their adventures. One of my favorites was with Sara from Posh Pooch Designs Dog Clothes.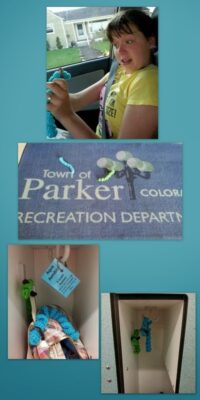 New Challenge : Inking
I hope you'll join in as we get "Stuck" on the areas around us by "inking" them with octopi.
What are we doing: Make an octopus or a few and leave them places as you go about your day. Attach a note if you'd like.
Who can do this: This is for everyone of all ages. They are REALLY easy to make, plus I've included links to helpful videos (at the end of this post). You only need a little bit of yarn, a crochet hook, 6″ white pipe cleaner and black marker.
These Will Be Stuck On You
I wanted something super easy that even first time crocheters could do. These are great for practicing a chain, single crochet and slip stitches. See end of post for tips and how to videos.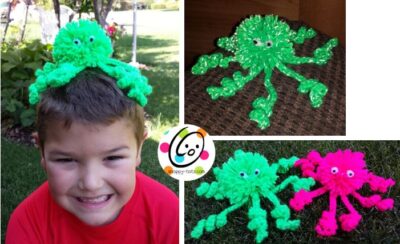 Materials you will need:
Small amount of yarn
H or I hook
Scissors
6″ white pipe cleaner
Black marker for pupils
Directions
Body: this is a pompom. I made mine, but you could also use a store bought pompom. Pompoms are easy and fun to make.
Hold one strand of yarn, and wrap 50-60 times around the palm of your hand (this is more than a normal pom because I wanted them to be thick). Carefully slide the yarn off your hand and wrap an 8" length of yarn around the center, pulling tight and knotting to hold in place. Do NOT cut this piece of yarn. It will be used to tie the tentacles to the body. Cut loops of pompom.  Trim as desired.
A piece of cardboard or pompom maker may also be used.
Here is a GREAT step by step video on making pompoms this way. Thanks to Fiber Flux!
Set pompom aside.
Tentacles (make 4): 
The pink octopus was made with worsted weight yarn and I used an H hook for the tentacles. The green octopus was made with bulky weight yarn (Red Heart Reflective) and I used an I hook for the tentacles.
With hook and yarn, ch 41. Work 2 sc (single crochet) in 2nd ch from hook, sc in next ch, 3 sc in next ch, repeat the steps between * 4 more times, slip st in the next 20 chains, 3sc in next ch, sc in next ch, repeat to end of chain. Cut yarn and pull end through loop on hook. Thread yarn tail through yarn needle and weave in and out of tentacle.
When all 4 tentacles are made, it is time to put our little guys together.
Assembly:
Place the pompom on a flat surface with yarn tails on top. Place two tentacles on top of popom. With yarn tails, tie a knot on top of the tentacles and pull tight.
Place the remaining two tentacles on top of the first tentacles. With yarn tails, tie a knot on top of the tentacles and pull tight.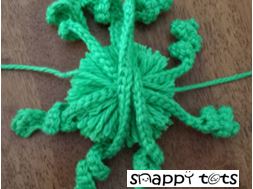 Now it's time to add the eyes with pipe cleaner. These are optional.
Pull the pompom back and place the pipe cleaner between the tentacles and body as shown below.
Let go of the pompom pieces. Bring each end of the cleaner up and around the pompom, separating the yarns to make it a path.
Cross the pipe cleaners as close to the center of the pom as possible. Give them a twist.
Wrap each end around a yarn needle or something similar in size. This creates a little knob at the end and should be even with the pompom yarns. It is better to have them too long (and poke up out of the pompom) then too short and not be seen. Carefully cut any extra pipe cleaner past the eye knob.
With a black marker, color a little round pupil in the end/knob of each pompom.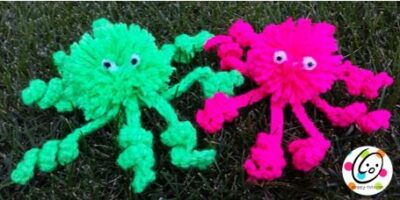 Options:
You could glue googly eyes in place.
Add a little note to your octopus for someone to find. How about "stuck on you" or "you've been inked"?
Your octopus is ready for INKING! Keep him for yourself and make lots more to leave places you go.
PLEASE SHARE PICTURES!! We all want to follow your adventures! Post a picture on my facebook wall or send me an email. Please tell us about your Inking or playing with these fuzzy friends.
How To Crochet
Here are some tips, videos, and articles I have found to help learn to crochet and to teach young ones to love it!
Young children are just starting to get used to using one hand at a time. It can sometimes be a struggle to use both. The easiest way for me to start young children (under 6) is to work together. I hold the yarn and they work the hook. This takes patience.
Another option is Finger Crochet. I am not a super fan of this, but many are. Here is an article and video to check out if you want to give it a try:
Learning to finger crochet, by Make and Takes.