Many of you hear about my youngest daughter, Brookie. She is absolutely adorable and has a big personality. Two years ago, Posh Pooch designed a crochet sweater dress just for her. It is super cute and totally snappy. She even named it "Snappy Pups Dog Dress". We were tickled pink and she has been Brookie's favorite doggie designer ever since.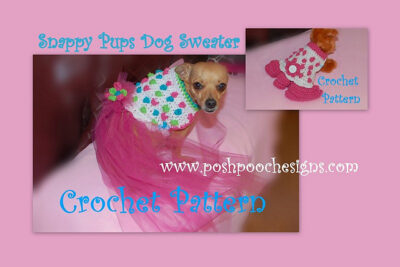 This year, while planning my big birthday celebration, of course Brookie decided she needed something new to wear to the event. We went browsing through Posh' collection. Wow, Sara has been busy creating tons of new things. To start we chose this little Shrug. I wanted something she could wear over her sun dress or by itself when she needs just a little something on breezy nights.
Oh my heck! It was the quickest project! In less than 25 minutes it was done. I love the stitch combo. Totally cute. The pattern includes notes about adjusting for different size dogs. I used Red Heart Shocking Pink (one of our fav colors) and a J hook. Since Brookie is a little Yorkie I started with a chain of 37sts. It ended up just a little shorter then I would have liked (my bad for guesstimating wrong) so I added 3 rounds of sc to each "sleeve" after it was finished. We just love it.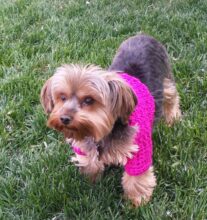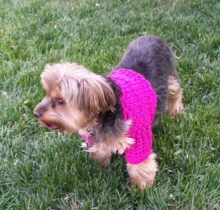 Isn't she super cute? She was busy playing football with her big brother, Tonka (a Rottweiler) so I had a hard time getting her to stand still for pix. Also why her tongue is out in one of the pictures.
I hope you will check out Sara's online spots:
Posh Pooch Designs on Facebook, Ravelry, Etsy, Google+ and her blog.