I am excited to once again join DecoArt as one of their featured designers. After taking a few years off from painting, I am looking forward to merging DIY crafts, simple painting and crochet to bring you some fun projects. I also will be sharing favorite color combinations and designs to match.
Stormy weather is my favorite because the sky comes to life. This barn is located about 30 minutes from my home and has been a favorite of mine since I was little. For awhile you couldn't read what was written on the side, but now they are keeping it painted. Isn't it wonderful? I shared this photo with friends and noticed the orange and burgundy from the hay barn and the straw added fun color to the grey barn and blue sky. I hope you enjoy…
Stormy Fields Color Inspiration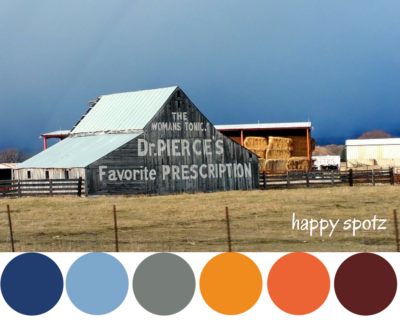 ---

Yarn Colors: Red Heart Blue Suede, Light Blue, Grey Heather, Gold, Carrot, Burgundy
The colors go well together and are pretty by themselves. If you make something from these colors please share on our Facebook page.
Free Patterns
---
Paint colors used in main sample: Decoart Americana Navy Blue, Winter Blue, Storm Cloud Grey, Gold, Spiced Pumpkin, Deep Burgundy.
Decoart Americana Paint Suppliers