Earlier this week my awesome daughter in law asked if i would make her something. OF COURSE! She found a neat market bag on pinterest that I hadn't seen before.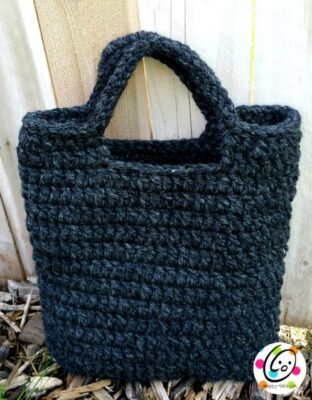 Made from mostly double crochet sts and two strands super bulky yarn, I knew it would whip up quickly. I ran to walmart that night so I could get started. The pattern, by Delia Creates, calls for FIVES skeins of Lion Brand Thick N Quick. My store only had 2 skeins of charcoal, the color she chose. I grabbed those… $5.97 a skein…and would pick up the rest the next day when I went out of town.
That night, within an hour, I got half way up the sides before running out of yarn. So far I was loving the tote. It was a good thing I ran out of yarn because my hands were getting tired from working with 2 strands of thick yarn and an N hook.
The next day I ran to Joanns and Micheals in search of the color. I was surprised to see it was $7.99 at both stores so definitely plan ahead and use coupons if you are going to make this bag. I really liked the walmart price much better.
** right now, 9/13/15, this yarn is on sale at Micheals for only $4.49! (I wish I had known…I would have waited a day)**
The bag is finished and I love how it turned out!
The Pattern
Designer: Delia Creates
Name: Sturdy Market Tote
Free Crochet Pattern: Click HERE
Skill Level: Beginner. Really easy and a great project for beginners because they end up with a nice project they will use.
Size: 15″ x 15″ (not including handle)
Supplies Needed: N hook, 5 skeins of Lion Brand Thick N Quick
Note: the pattern calls for 5 skeins. The designer mentions you will use 4 skeins and a little bit of the 5th. When my bag was almost done I still had quite a bit of the 3rd and 4th skeins left. I checked the gauge (right on) and pattern again to make sure I hadn't made an error. It seemed to be right so I pulled out the handle, added 2 more rounds before adding the handles (to use up the yarn and add a little height). Then, when it was finished, I did one round of slip stitch around the top to add even more strength to the tote. So, I used 4 skeins total and have a skein I can return and get something fun to work up.