I am FAR from being a cook of any kind. There are a few things I make that my kids love, but mostly we have perfected quick and easy things for very picky eaters. 
One thing I have always wished I could make well and consistent is a really good chocolate chip cookies. Over the years I have turned out more "throw up cookies", ones that resemble the plastic throw up, than edible ones. I have tried a bunch of different recipes and ingredient combos possible. 
THEN, a fabulous friend of mine, now known as the cookie queen, taught me a couple of simple tips. 
Now my cookies turn out PERFECT every single time!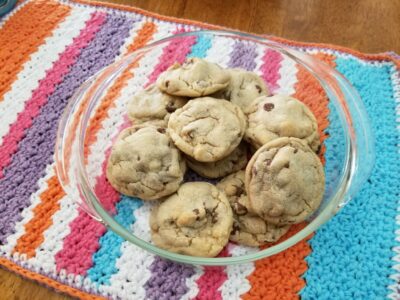 Tip #1
Parchment Paper! Who knew that placing this one simple sheet of wonder on the cookie sheet first would be a miracle worker? Ok, you probably did, but not me. I never would have believed it, but it really makes a HUGE difference PLUS keeps the cookies from sticking.
Tip #2 
Crisco! Not margarine. Yep, I actually used the cheapo margarine in my cookies many times… probably the main culprit in the throw up cookies. The cookie queen also insists it must be the name brand Crisco. She has tried generic versions and I will take her word that it makes a difference. 
Disclaimer
I live in a high altitude area. Since I am not a "cook" I am not sure how your cooking time will differ so please watch the first batch and adjust accordingly.
Easy To Be Perfect Chocolate Chip Cookies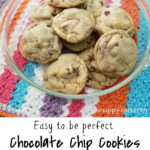 Yummy chocolate chip cookies that turn out perfect every time if you follow a few simple tips.
1 c Crisco Brand Shortening
3/4 c Granulated Sugar
3/4 c Brown Sugar
1 t Vanilla
2 Eggs
1/2 t water ((optional))
2 1/4 c Flour
1 t Baking Soda
1 t Salt
2 c Chocolate Chips (Semi-Sweet or Milk Chocolate)
1 Parchment Paper to fit cookie sheet
Preheat oven to 350 degrees.

Cream together shortening, sugars, vanilla, water and eggs. Note: I prefer to use a mixer.

Add dry ingredients and mix well.

Stir in chocolate chips.

Drop cookie dough by rounded tablespoons on a parchment paper lined cookie sheet. It is VERY important you use the parchment paper. It makes the world of difference in the cookie outcome 🙂

Bake at 350 degrees for 11 min. or until light golden brown. Do not overcook.

After removing cookies from oven, allow to cool a bit on the cookie sheet. They will continue to "cook" a little bit on the sheet.
I usually make a double batch because these disappear WAY too quickly!
I think a single batch makes approximately 45 cookies. I will count next time and update this info.
The "total time" depends on how many cookies you can bake at a time. I usually do at least 3 sheets of 15 cookies each at 11 minutes each sheet.
I hope you will give these a try and please let me know if you enjoy them. Tag me with #snappytots if you share your cookie adventure on social media.
Pin To Save For Later