On Monday, we started our first Snappy Summer Camp geared towards breaking the summer boredom that can set in during July. My kids always started to ask "what can I do?". So, several snappy friends have joined in to offer suggestions. Check out all the fun camp posts.
Have you been enjoying the simple crochet projects? We've been rounding up quite a few. Here are some more of our favorites. With a little help, even kids could make these. Remember, lots of patience, a positive attitude and FUN are the key ingredients when teaching children.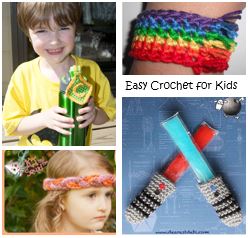 Summer Camp Continues
Until the end of July, play along as we share simple crochet projects which are great for beginners and kids with basic crochet skills or someone to help them. Yummy foods, activities and tips will also be posted. I hope you will enjoy these by yourself or with friends and family.
Challenges
Join our fun challenge each week. This week we are making "Wiggly Giggly Bugs" and BUG BLASTING! You will need yarn in your favorite color and any size crochet hook (size I or larger will be best).
Take pictures of things you try during the camp. Share them on our facebook page for a chance to win a summer fun family pack!
Stay tuned for next week's theme to be posted on Monday, July 14.