Description
My MOST POPULAR event of the year is now open to sign up for 2024. Back for the SIXTH year, this year long event has been a lot of fun since 2019.
This year the presale price of $18 will be available until 11/30/23.
This listing is a subscription for a year-long crochet pattern event.
About The Patterns
Each month a brand new premium snappy pattern will be available by the 10th of the month. If the pattern is late (which it will be at some point) you will get a bonus pattern. All patterns will be released by the 15th of each month for sure.
This past year we did seasonal flags and they were a lot of fun. For 2024 we are going back to a variety of projects like previous years.
The monthly projects include a variety of seasonal and US holiday projects and will include the following items and more:
a unique beanie
wall hanging/garden flag
stuffie/amigurumi
bag
kitchen accessories.
BONUS For Members Only
The first project of the year is something we will add to throughout the year. In the past it has been a bag, wall hanging, and stuffy. Each month I released a seasonal item to switch out on the item. These special monthly patterns are released to only event members. These might be sold separately after the event is complete.
What will it be in 2024? January's project…which will be added to throughout the year…is something that can be made as a tote bag or pillow.
Skill Level: Easy. Basic crochet skills needed and you must be able to read a crochet pattern.
Materials needed: Each design is made from worsted weight yarn in a variety of colors. Some variations in larger yarns might be included, but each project will have a worsted weight version.
If you would rather not pay in advance, most of the patterns will be sold separately for $4-6 each by the 15th of each month. The "bonus" patterns will not be sold separately.
Examples: The projects are not shown in advance, but here are some of the projects we have done in past years. The patterns shown are NOT the ones we will be doing in 2024.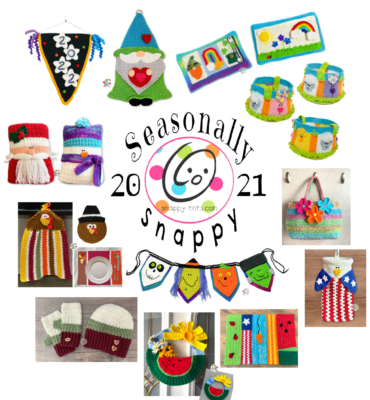 Individual Use Only
Membership is good for one person and is not meant to be shared among a group of friends. If you would like to purchase this for a friend, please include a note when signing up.
Membership Contact
All communication for the group is based on the email used when purchasing. If you would like to be contacted through a different email please let me know.
Downloads
All information about this event is added to a special page on my website. I know some have problems getting emails so this is the best way I have found to make sure they are available to everyone. Email reminders are sent each month. If you choose to block my emails or unsubscribe YOU are responsible for remembering to get your patterns.
Pattern locations: Each pattern will be on a special event page on my blog, in a dropbox folder, as well as added to Ravelry.