I was THRILLED when Bernat Blanket Yarn came out in the new SNAPPY COLORS! They call them "brights", but they scream SNAPPY to me. When I saw them, I just KNEW I had to make a GIANT Miss Super Snappy. Can you imagine? oh my heck!
I got thinking tho… We LOVE to sit outside in the summer and we do a lot of reading. A friend of mine made a bunch of pillow beds at Christmas from fleece and I decided I was going to make one for my 9 year old. As you might know, my sewing machine and I are at war so I decided to crochet one instead.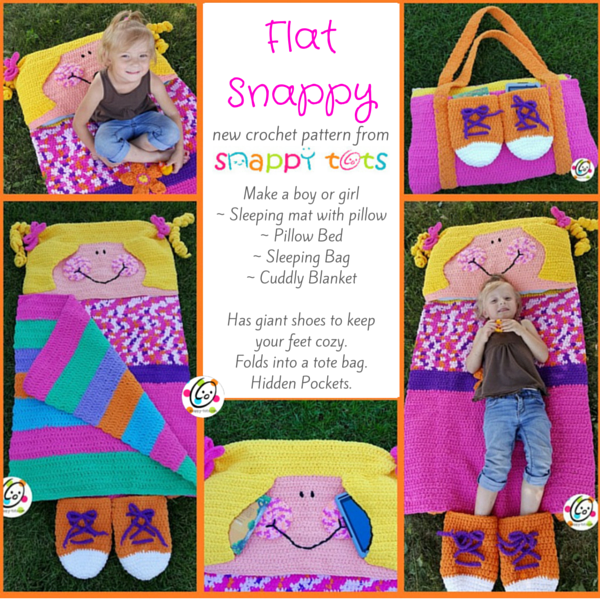 About The Pattern
Skill Level: Easy, with basic crochet experience and able to read a crochet pattern.
All items fold into a tote and can be made for girls and boys, ages 1 and up:
~ sleeping mat with pocket for regular size pillow and foot cozies
~ Pillow bed with pockets for 3 or more regular size pillows and foot cozies
~ Sleeping bag with pocket for regular size pillow and foot cozies
~ buddy blanket
Instructions for using ANY YARN, worsted weight to super bulky. I LOVE how it turned out with Bernat Blanket Yarn, but it would be cute in others too. If you need suggestions for other yarns, just [send me an email][1] and I would love to brainstorm with you. Scroll down for some more info too.
Variations
Sleeping Mat (3 sections, length for up to 40" child): 1.5 big balls/330 yards yellow (hair color), 3 skeins/320 yards peach (flesh color), 1 big ball/220 yards variegated (shirt color), .5 big ball/110 yards purple (belt color), 1.5 big balls/330 yards pink (skirt color), 1 big ball/220 yards purple (shoes color), 300 yards misc colors for flower applique, handles, pockets.
Pillow Bed (3 sections, length for up to 40" child): This variation will need the same amount as the sleeping mat PLUS 660-800 yards for the additional two pillow pockets OR fleece fabric could be sewn to the back for a lighter, quicker option.
Striped Blanket (30" x 32"): 5 small skeins (72 yards each). Add one skein per additional 8 rows.
Materials and Details
Yarn: super bulky weight yarn in choice of colors. See variations below for yardage amounts.
Sample was made using Bernat Blanket yarn.
Crochet Hook: K, N (9mm)
Note: N hooks are available in different mm size.
M/N hooks are 9mm. N/P hooks are 10mm. The size difference will affect your project greatly.
Miscellaneous: yarn needle, 1-3 standard size bed pillows, measuring tape, 1" button for closure.
Gauge: 4" with N hook= 9 hdc sts and 6 rounds
Please be aware that some people tend to crochet thicker yarns at a different tension than other yarns. Hook brand and size makes a difference as well. This project is great any size, but yarn amounts will vary if your gauge is different from mine.
Measurement: 28" wide X 50" long (plus 10" for shoes) or desired length of blanket; each section is 16" long
YARN
Bernat Blanket Yarn
I LOVE this yarn! It whips up quickly, is easy to work with and the final result is awesome.
Be aware there is Bernat Blanket Yarn and Bernat BABY Blanket Yarn. I have used both in this project and it didn't make a huge difference. The peach for the face is baby and the rest is regular.
The yarn also comes in two different sizes of skeins. Regular skeins have approximately 72 yards and "big balls" have approximately 220 yards.
At the time of this publication (June, 2016), the new "brights" colors are only available for purchase online. I live in the continental U.S. and receive my orders from 3 different online shops within a week.
Amazon does carry most of the colors and if you are willing to pay a little more you can receive them much quicker, especially with prime shipping. This comes in handy if you run out of a color 🙂
Yardage: for me, 72 yards of Bernat Blanket yarn will make 8.5 rows of this blanket in hdc.
Super Bulky Yarn – other than Bernat Blanket Yarn
Suggestions: Loops & Threads Charisma, Lion Brand Hometown USA
The finished project, if made from the yarns I've suggested, will be heavier than if made from Bernat Blanket Yarn. But these yarns are more readily available.
Follow the list of materials on page 1, substituting colors and adding length if desired. The yardage amounts might vary a little.
Other Yarn Weights – using worsted or bulky weight yarns
These projects can be made by following measurements. Instead of chaining a certain amount of stitches, you will create a chain a certain length (inches). Because I do not know what yarn you will be using, unfortunately I cannot give a yardage amount.