Each May I spend the entire month celebrating my birthday and the creation of my business, Snappy Tots.
This past May I wanted to do something extra special for my fifth business anniversary. Hundreds of little ducks were shipped around the U.S., wrapped in a crocheted scarf. The recipients were asked to take their new duck buddies with them and share their adventures.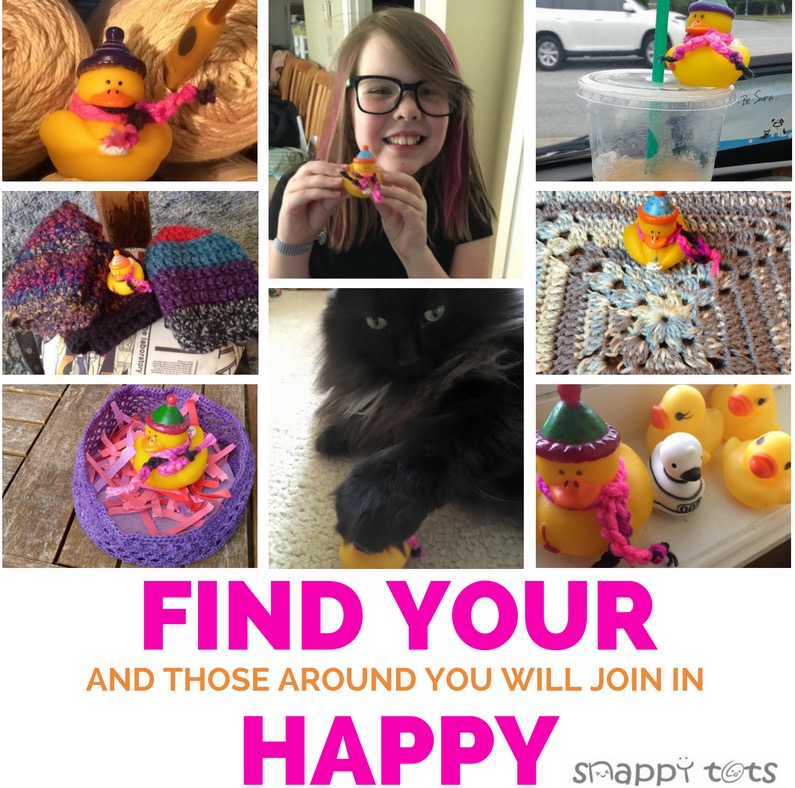 Hundreds of photos have been shared and I will be posting them so you can enjoy all of the happy times too. These adventures (and the wonderful people who posted them) helped get me through a tough summer. I hope you will smile when you see the fun they have had.
The Photos
Thanks to the following peeps for sharing with us:
Cat with paw on duck  –  Wendi Oettiker Lee. From Wendi, "Frank isn't so sure about Duckie."
Duck on cream yarn with hook  –  Annette Whetzel Burke. From Annette, "Look what I found in my project bag!!"
Duck on drink  –  Tammy Willoughby
Girl with duck  –  Jackie Benjamin (the girl is her daughter, Nikki, and Snappy Peeps have watched her grow up through wonderful pix her mom shares)
Duck on granny square  –  Kim Mcallister. From Kim, "helping me with a new baby blanket".
Duck with hats by pole  –  Sherry Conrad. From Sherry, "I just arrived & I found just the spot to rest after my travels! She loves me & said she would make my friend tonite! I'll just rest for awhile."
Duck with ducky friends  –  Rosetta Williams
Duck in purple bowl  –  Pam Stinnett