Winners:
First, thank you to everyone that sent in a photo. The judges had a VERY HARD TIME choosing just a few winners because so many deserved recognition. LOTS of great costumes, cut kids (plus furry humans), group costumes and creativity galore.
I LOVED seeing all of them and reading about the different costumes and events. I appreciate the time each person took to send in their entry so I am giving one Snappy Tots pattern of choice to each person that entered. An email was sent to each contestant.
Each winner listed below will receive the Snappy Tots pattern of choice for entering, as well as the prize listed under their name. An email will be sent to each winner today, 11/5/2018, will information about redeeming their prize.
---
Favorite Story/Inspiration: Wendy Forman
Prize: One pattern of choice from Made by Mary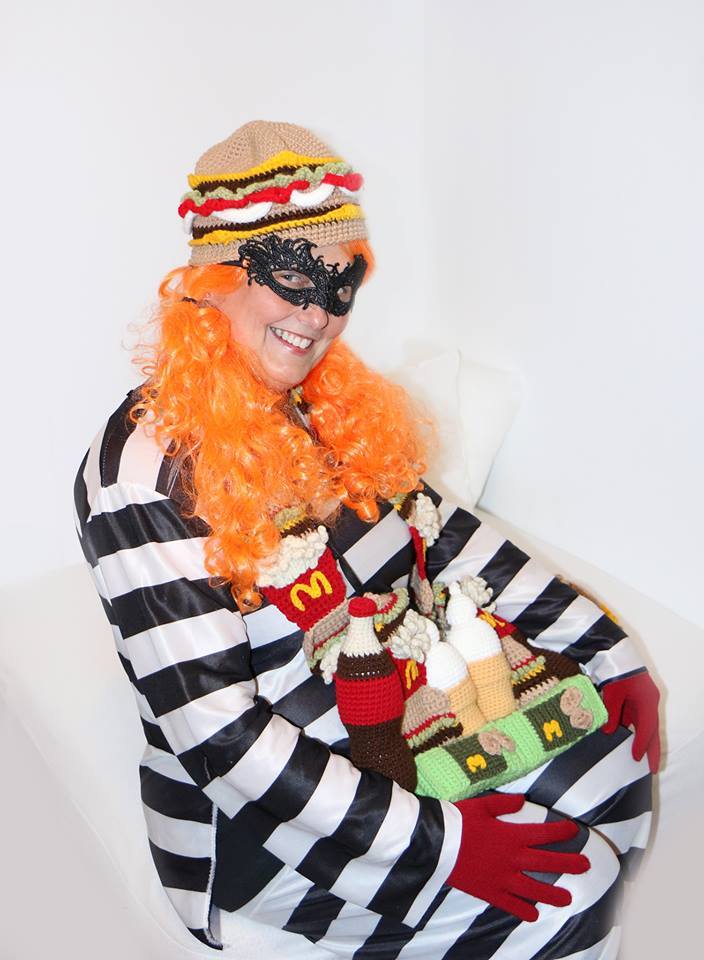 ---
Favorite Creation (non crochet): Gill Comerford
Prize: One pattern of choice from Crafting Friends Designs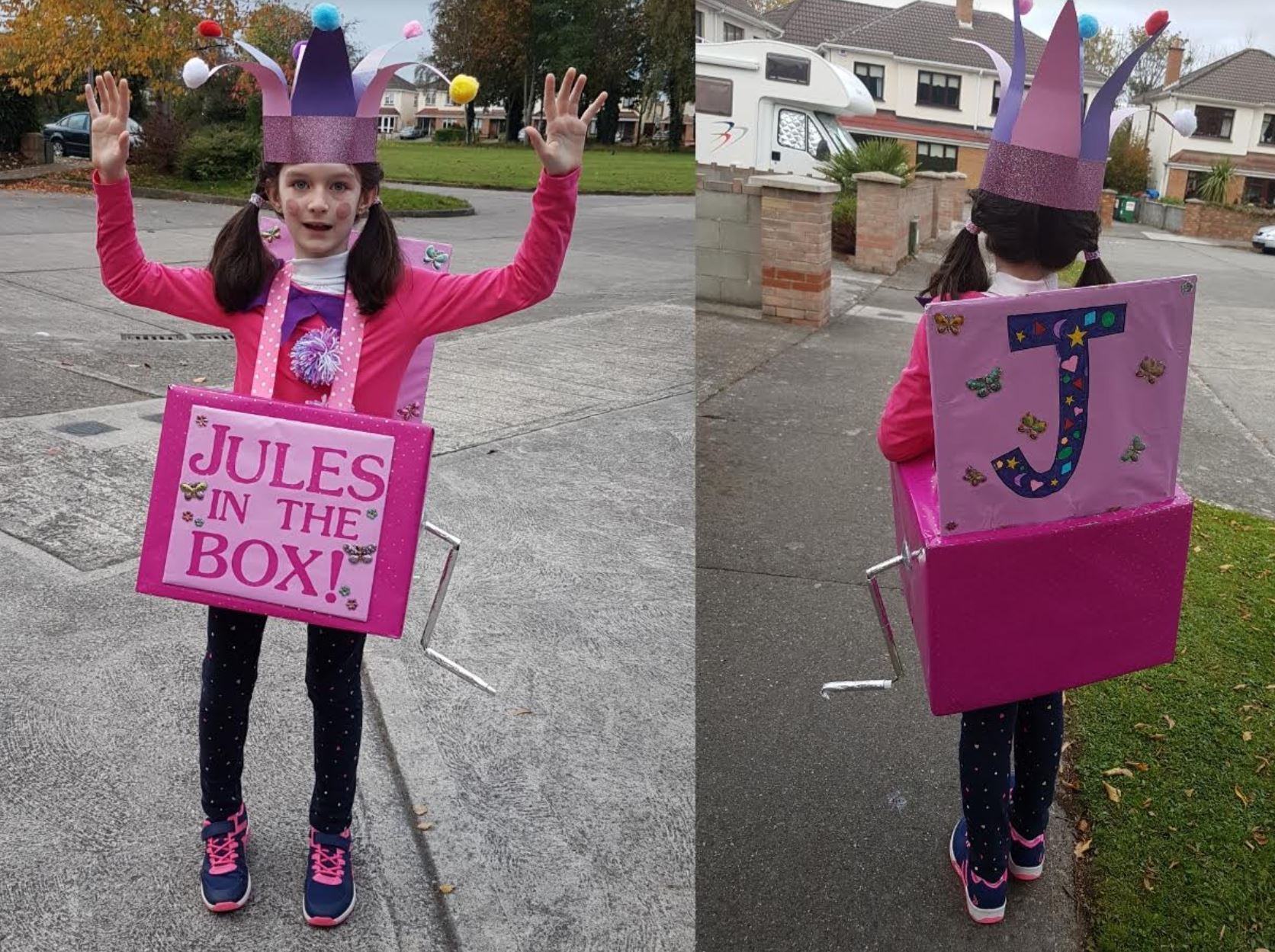 ---
Favorite Creation (crochet): Melissa Alderman
Prize: One pattern of choice from Sweet Potato 3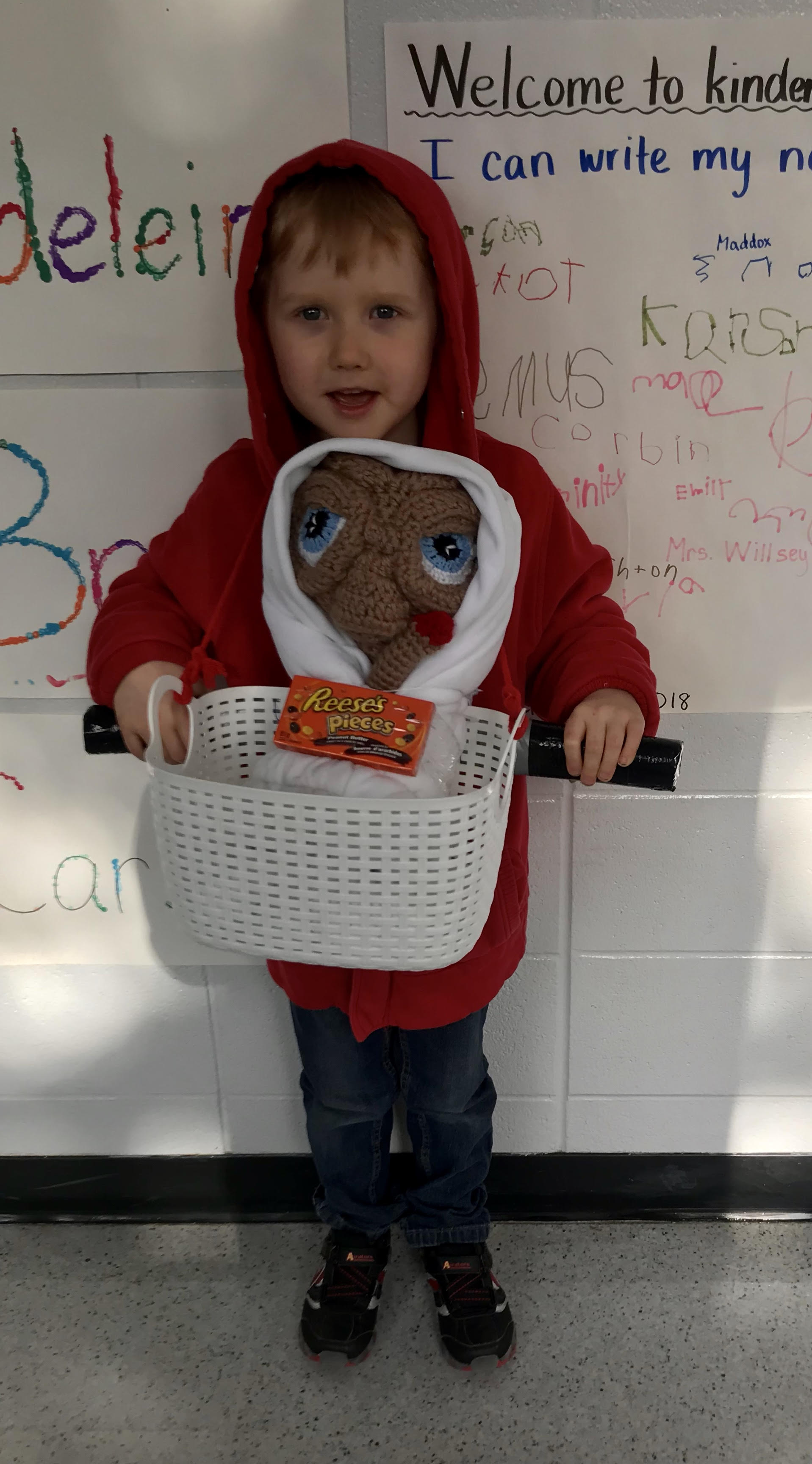 ---
Favorite Group: Dawn Seeman
Prize: One pattern of choice from Ambassador Crochet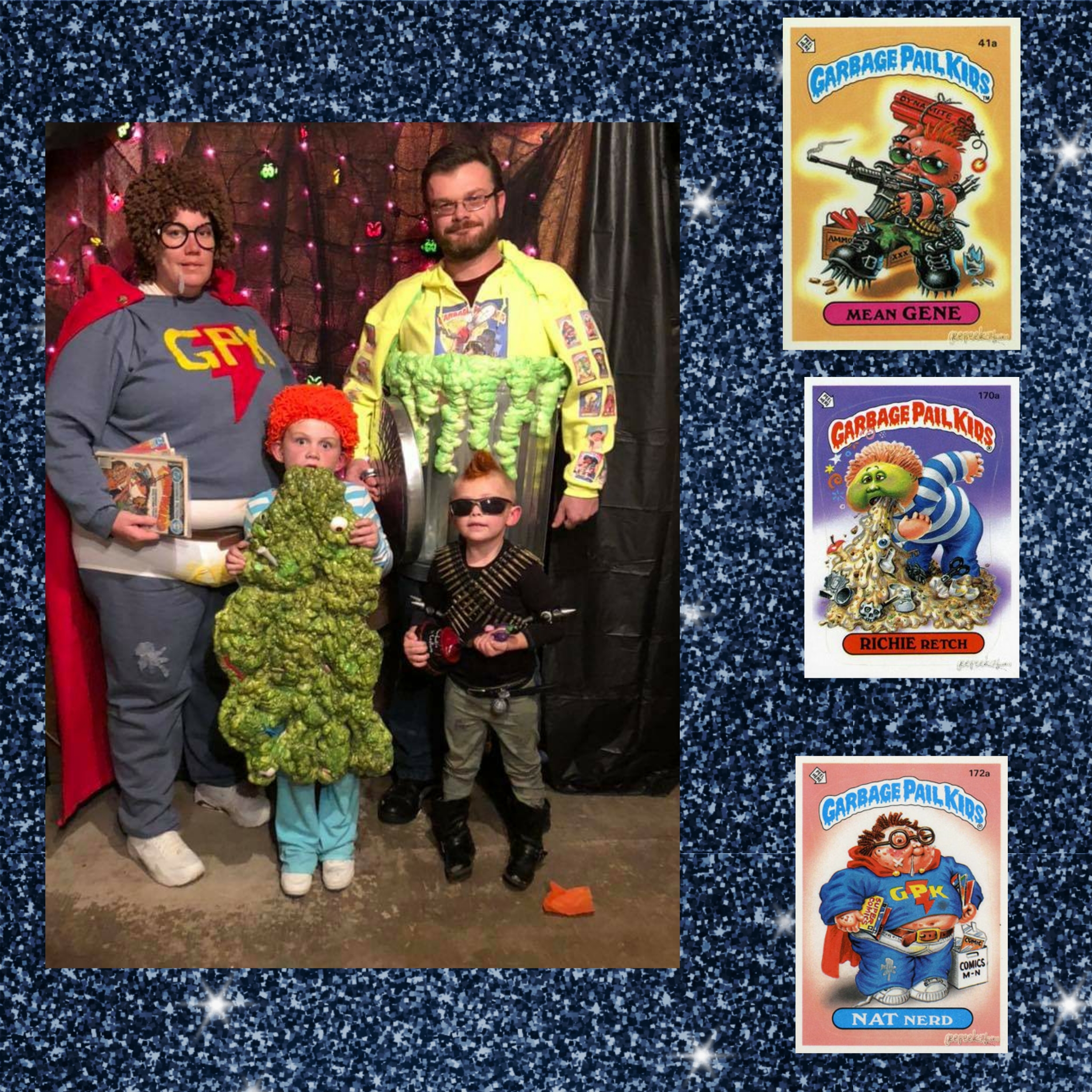 ---
Favorite Funky Witch/Wizard Hat:
Prize: One more pattern of choice from Snappy Tots
Thank you ALL for sharing your hats from the event. I appreciate you entering your hat so you all get to choose another snappy creation to make 🙂
Note: If YOU entered a photo that includes a hat made from my funky witch/wizard hat pattern and you do not see it below, please send me an email.
---
Please scroll down and see all of the fabulous entries.
Please come trick or treating to Snappy Tots! We want to see your funky Witch hats, Halloween creations and costumes. There will be multiple prizes given for different categories.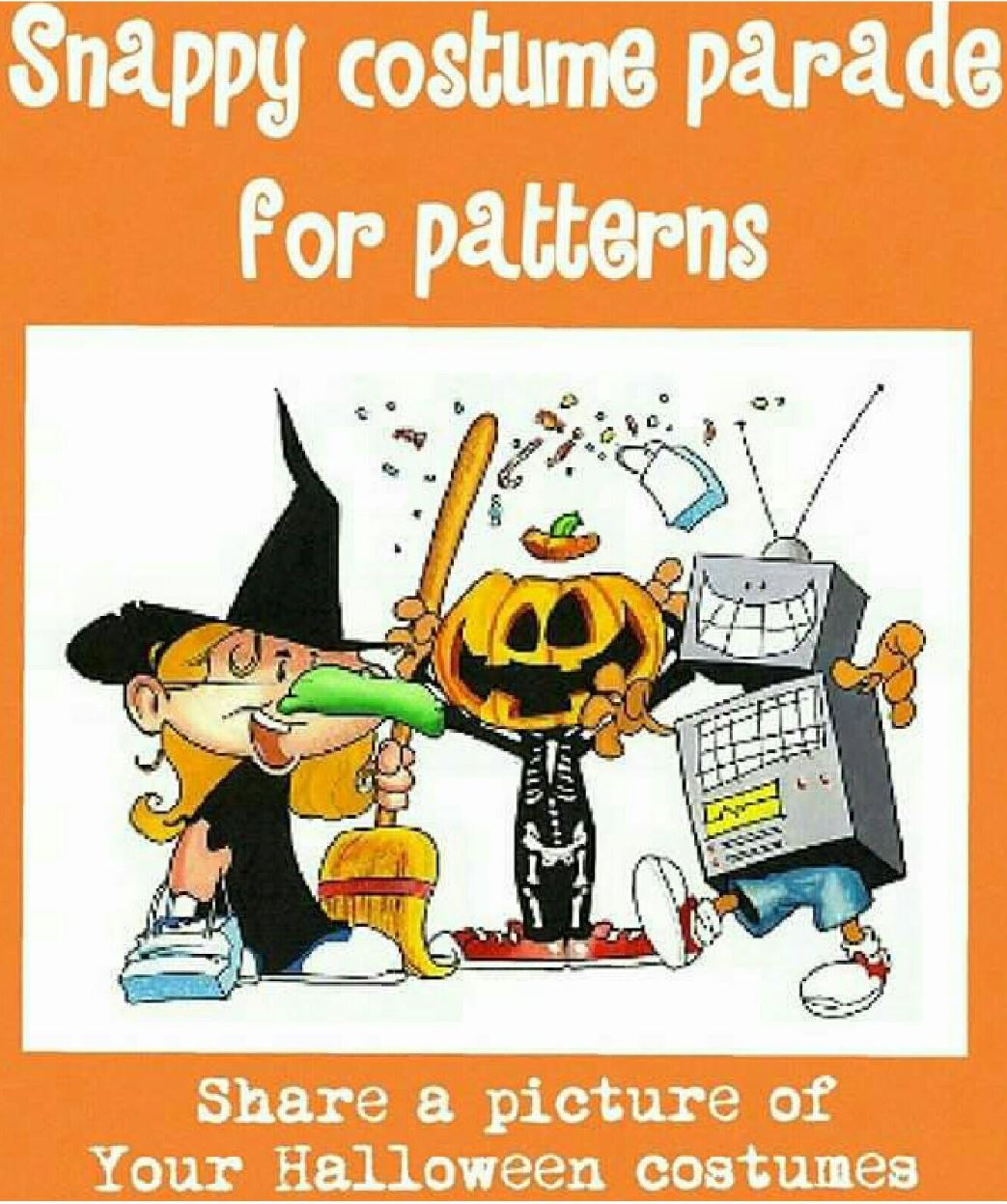 Contest is closed. Thanks for your entries.
Take a picture of you and/or your family DRESSED UP for Halloween or someone modeling a Halloween item you made.
Click HERE and email one photo and a short description before Nov 1st, 2018 at 11:59 pm mt. Add subject line: "costume parade" to your email.
By emailing a photo you give permission for Snappy Tots to share the photo on this website.
All photos will be posted on this page before the giveaway closes.
Winners will be chosen to receive a snappy tots pattern of choice.
Have a safe and fun Halloween!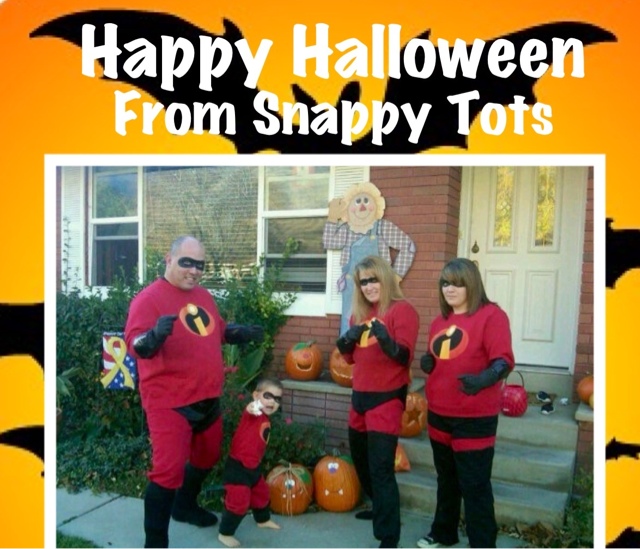 Guidelines:
~ Email one photo per person.
~ photo must be from this year's Halloween season (2018). One photo per person/family please (unless family includes more then one snappy friend prior to contest. Then more then one family member may enter but pix must be different.)
~ Costumes do NOT have to be crocheted but if a snappy tots design is included in the post it will be entered for an additional prize.
~ Please keep photos in GOOD TASTE. A lot of kids see my page. Any inappropriate photos will be removed.
~ all photos must be shared before 11:59pm mt, Nov 1, 2018.
~ I try to set this up as user friendly as possible. If you experience problems uploading/sharing your photo please send me an email.
Be safe and have fun!
Our Sponsors
Thanks to our sponsors, some of these lucky people will be chosen to win patterns from some of my favorite designers. Please visit their pages and follow them if you do not already.
Here Comes The Parade!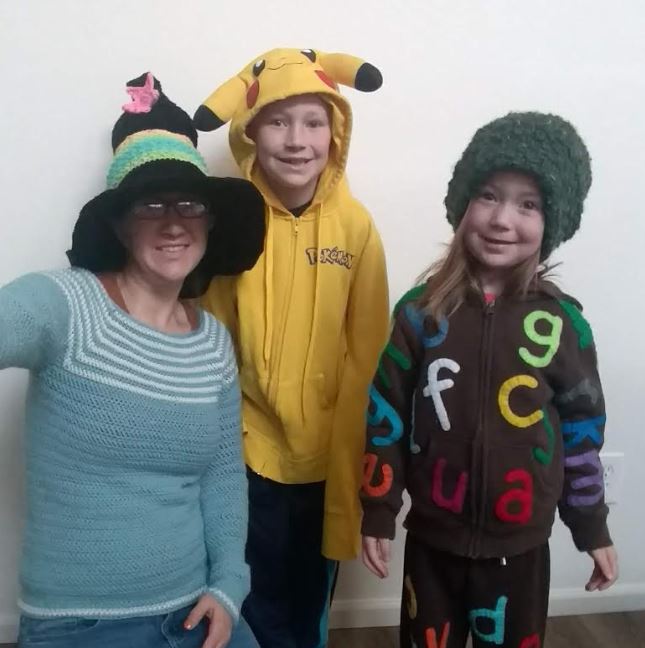 From Elizabeth Dye: Here's my daughter! This is the first year I haven't made most or all of her costume… I did her glasses and fixed her hair…. she's Dizzy from Disney's Descendants 2

From Wendy Wilken:
We went to the Toledo zoo and they had Elsa there for a photo shoot.
My son is Hero from Big Hero 6.
My daughter is a fairy princess.


From Tonya Simpson: Dexter's head on a platter!


From Kelly Enger:
Pac-Man with his power pellet and a bowl of Mac n Cheese with a spoon!

From Patricia Gosselin:
Kimberly my 11yr old 1st school dance, Halloween themed.

From Crystal Hamrick:
My daughters going as the Joker and Harley Quinn. Not handmade this year though.

From LaToya Lackey:
My 6 yr old and my 2 yr old on the way to a costume themed birthday this past Saturday. My 6 yr old is wearing a Frozen.
Elsa headpiece I made last year for dress up. Maybe I should make Anna for little sister lol

From Olivia Yeupell: Stormtrooper and Misty

From Andrea Oliver: The little happy witch.


From Michelle Backes: Here is my Holy Cow.

From Mary Martz:
This is my granddaughter and my youngest daughter. Showing their trick or treat bags that I made them this year.

From Krystal: When times get hard, the best medicine is to laugh it off… HaHaHa- Krystal as the Joker.

From Carolina Barr:
My friend and I were in a Halloween fashion show this weekend. I'm the one on the right. We were Siamese cheerleader twins who were struck by lightning. It was a blast and I was glad we didn't trip on stage because we are both very clumsy! Photo credit: October Yates

From Colleen Shuman:
My daughter dressed up like Skye from paw patrol.

From Kelli Morton:
Christopher as a GI Joe and his Service Dog Buddy as a Bee 🙂

From Brenda Benninger:
Here's my son dressed up as Bowser from Mario Bros. Only the top, shorts and hat (minus the horns) aren't crocheted – all else is.

From Darlene Clark: We host a haunted hayride every year for church youth. I didn't want my costume to scare them right away. They got enough scares on the hayride! So I dressed as a witch.


From Fran Hartman:
My 88 year old mum as Pumpkin Pi at the Senior Center Halloween party.

From Annette Monroe:
Funky Witch Of The East

From Margie Smith:
I've always been Funky but now my Funky Witch hat proves it! Now, where did I put that wand……(age thing)

From Dorothy:
This is me, wearing my crocheted Cabbage Patch hat.

From Mary Neumeier:
My 8 year old with her nose glued from a cut yesterday.

From Laura Woods:
A zombie unicorn. Happy Halloween!

From Kimberly Davis:
This is my son's girlfriend wearing the "Game of Thrones" inspired costume I made for her. (Not the dragon, lol!)

From Pam Phelps:
Pumpkin hats made for babies born on Halloween.

From Cindy:
Last night I made my sister a Taco costume!

From Christal Friend: My son being crazy.

From Melissa Alderman: This is my 5 year old son he wanted to be Elliott and ET from ET.

From Betsy Jones:
This is 3 of my 4 grandbabies ready to go trick or treating. Queen of hearts, a sparkling witch, and a sweet little cowgirl.

From Tricia:
made for a friend who added her own extras. She works at a pizza place and the hat goes well with her black uniform.

From Pam Stinnett:
I took repeat crafter me's pumpkin pattern for her size 5 baby and made it a 10 for Alex! We've had a blast all month!

From Cheryl Jacobo

From Louise Jones:
Crocheted Mario's hat. Crocheted toads inner hat and vest lining.

From Irene Sanchez:
Nothing fancy just a simple witch costume for passing out candy to the kiddos that show up, I made the spider web shawlet.

From Leslie Mansfield:
Here's my granddaughters. This is the first year I haven't made any part of there costume. But we have a Skye and Harley Quinn.

From Marjorie Swain:
This is my daughter, my son in law and grandson. Big hero 6 theme.


From yvette james. This is my 5 kids . They wanted to use what was around the house this year. Robert is a zombie Boy Scout , Hayley is monster high, Ethan is a turtle and I crocheted his mask, MaggieAnn want to be her daddy this year so she is Mr. farmer and Sam is just wearing his pjs lol
From Sally P:
My 2 pups ready for halloween. Lucy is the lil devil. Wilson is winnie the pooh.

From Leanne Hiebert:
My grandchildren with their hats I made. There is a crocheted Marshall hat under there.

From Pamela Emerson:
My daughter and grandsons, ages 1 1/2, 5 and the birthday boy is 12 today.

From Tammy Chevalier:
Amber, the young lady wearing her hat, wanted you to know, the frog dies not have eyes, because he is sleeping 😉

From Marona Lynn Archer:
I made this rainbow Unicorn costume for my granddaughter. Received a lot of compliments on it.

From Spring Walski:
This is my son as a sheriff!

From Gill Comerford:
Happy Halloween (from Ireland!). This is my daughter Julie (age 9)
She wanted to make a jack-in-the-box style costume this year.
I did most of the heavy work cutting and sticking the box parts together and making the turning handle. Then she helped out with all the decorating (the fun part!)
She cut out and decorated the J for the back of the lid, the hat was made from cardboard and her shirt was finished off with some felt around the collar and woolly pompoms which she made herself. Hope you like our "Jules-in-the-Box"!!!
From Melanie Smith: I made my 1 year old an Oogie boogie costume this year and I'm obsessed with it!

From Linda Murphy:
My son, Dead Pool Bob Ross .
Happy Halloween!

From Dolores Redifer:
O e of my granddaughters at the Halloween parade today.

From Kristen Taylor:
Flo from Progressive & Mayhem from Allstate

From Theresa Kelsey:
Our youngest grand – daughter In the lady bug costume I made for her first Halloween, and me in my snappy witch hat. ")


From Melanie Brazier:
"The Sanderson Sisters" All homemade this year, and a majority of the items were from the thrift store. (Mom, Me, Sister)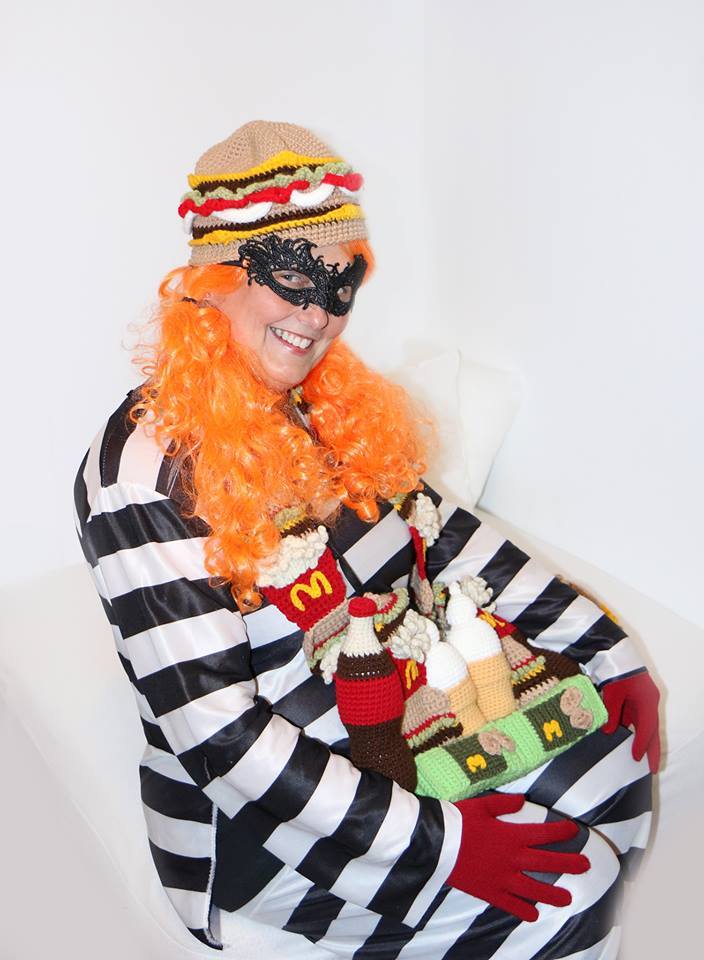 From
Theresa Holzhausen:
Perry the platypus/agent.

From Kim Mattox:
Mariah Mattox as Harry Potter!

From Liz Hasler:
My Funky Witch hat was a success!

From J C:
Here is the picture of my mom wearing the hat I made!
We are garbage pail kids this year!
A love and throw back to the 80s!
Almost everything is diy from the crochet wigs (with no pattern), camouflage pants, throw up, to the garbage pail covered in slime.


From Maria Torrez:
A week before Halloween we went to the theater to watch a special screening of Beetle
juice. Before the show started a local reptile rescue/shop were there teaching about their different reptiles. We were able to meet and greet the awesome critters. My daughter was dressed in her hooded witch scarf I had just made her a few days before. Here she is holding one of the snakes !!!!

From Amy Greene:
This is my 12 yo daughter Natalie as her favorite paper salesman — Dwight K. Schrute! She worked hard to make sure it was as authentic as we could make it!


From Nichole B:
Here are my kids and I all dressed up for Halloween!!!! 🙂


This is Kimi Watermelon Ineasterhay
This is my design lol thanks for being so cool!

From Phyllis Vandenbosch:
RyleeAnn. Our little raggedy Ann.
Happy 1st Halloween

From Melinda Elliott:
My son showing off his wizard hat trick or treating!

From Sarah Schmidt: Funky Witch Hat

From Shana:
My son wanted to be yoda for Halloween. I didn't have time to make the Cape but I did make his feet, hands and hat (just a beanie for now as I will add the ears so he can wear it as a regular hat)

From Tracey Kelsey:
didn't have time to crochet anything this year, but I did dress up a little

From Sherry Smith

From Richelle Zirkle:
Our 4 year old and 2 year old at Fall Fest!

From Courtney Hester:
My 5y old and I!!

From Christie McDowell

From Phyllis Surprenant: My fur baby in her petunia skunk costume.

From Lisabeth Iglesias

From J Newmeir

From Mary Kulas:
I gave myself pigtail puggie ears to go with my pugkin shirt.