Some color inspiration today comes from an unlikely source for me…. Variegated yarn! Check out this amazing blanket by Kimberly of Kimations. I recognize many of the yarns that have convinced me to take them home. They look so fun in the store and tell me they will make wonderful projects, but then they all end up sitting on the shelf. Look how amazing they are in this blanket tho! love!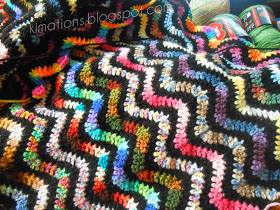 The blanket is gorgeous PLUS I'd use up lots of unwanted skeins. I think it will be a great Christmas gift. I can work on it a little at a time all year.
Click HERE for pattern from Kimations.