You know I love having sales, counting down to Christmas and sharing info about amazing designers. I am excited to join The Blue Star Boutique and 10 other designers in the "12 Days of Christmas 2017".
On the 6th day of Christmas, Snappy Tots gives to you, 65% off ALL patterns, plus patterns for only 52 cents!
CLICK HERE for the daily special, plus a chance to win 12 skeins of yarn.
Coupon Code: santa
Offer expires 12/24/17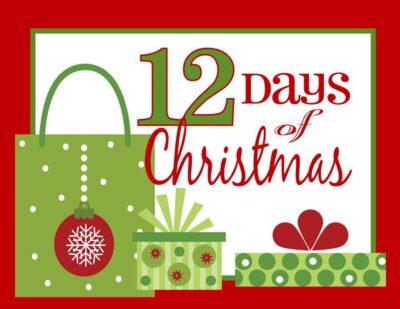 Daily Sales
Many of the following specials are running til Christmas, Please check each shop for info.
Each day a different designer is offering a special and some even have a brand new release. Keep watching here as each one is announced.
Day 1 (12/13 Wed)
The Blue Star Boutique: New Candy Twist Cape $1 through 12/24 with code PARTRIDGE
Day 2 (12/14 Thurs)
Sweet Potato Crochet Creations: New Check Me Out Bag released. 50% off all patterns through 12/25 with code 2TURTLEDOVES
Day 3 (12/15 Fri)
Ambassador Crochet: New Arctic Snowdrift Cowl $1 through 12/18 with code 12DAYS
Day 4 (12/16 Sat)
Blackstone Designs 50% off all patterns through 12/18 with code CALLINGBIRDS
Day 5 (12/17 Sun)
Glamour4You 50% off all patterns through 12/25 with code 5GoldenRings
Day 6 (12/18 Mon)
Snappy Tots 65% off all patterns through 12/24 with code Santa
Day 7 (12/19 Tues)
Sweet Potato 3 New The Hygge Wine & Coffee Cozy Pattern $1 & 50% off all patterns with code 7SWANS
Day 8 (12/20 Wed)
Creative Threads by Leah 70% off $5 or more through 12/31 with code 12daysChristmas
Day 9 (12/21 Thurs)
Yarn Medleys from the Heart 50% off through the 25th with code 9LADIESDANCING
Day 10 (12/22 Fri)
AllieCat's Hats and Crafts FREE stocking 12/22 only with code 10LordsLeaping
50% off all other patterns (no code) through 12/25
Day 11 (12/23 Sat)
Crafting Friends Designs 65% off all patterns through the 25th with code 11PIPERS
Day 12 (12/24 Sun)
KMT Creations BOGO free through Jan 1st with code 12DrummersDrumming