I am a Pinterest Addict! If you have been a snappy fan for long, you already know this. I LOVE that secret boards can be created and I have been using them for things I want to make for Christmas presents and future designs.
If you haven't found Pinterest yet, you should give it a try. It is fun seeing all of the wonderful things others find. I got searching for new decorations and ways to bring a warm and cozy Christmas feeling into our home and am excited to share them with you.
Decorate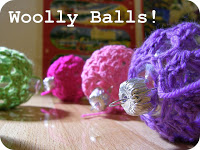 I have been searching for a quick and easy pattern to make these ever since I saw them hanging on a tree on some random show I was watching. I found this free pattern for "woolly balls" on "MeetMeatMike" and they are super cute. I need to make some bright colored ones to polka dot my snappy tree (my second Christmas tree with all my handmade ornaments)…but they would add an elegant touch made from deep colors or neutrals too.
Delight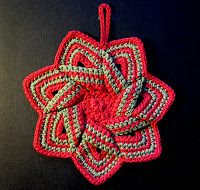 A beautiful crocheted hotpad would also make a nice centerpiece to put a candle on.
Delish
Delovely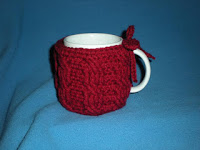 I love coffee cozies. This cabled cozy made from a free pattern by "Schmutzerellas Crafts" would make a wonderful gift that keeps reminding friends how much you care.
Deliver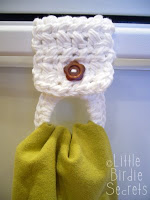 I LOVE dish towels with crocheted tops. This is even better, giving any towel a handy place. These work up quickly. Add a Christmas towel to this hanger made from a "Little Birdie Secrets" free pattern for a nice neighbor or teacher gift.