These specials have ended. Watch for more specials and giveaways throughout the year.
Another year comes to an end which finds me at one of my most favorite times of the year. I LOVE the fresh start of a new year. I can try, once again, to accomplish goals throughout the year. Do you do that?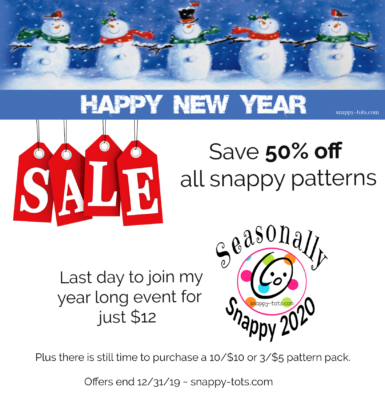 This new year is a BIG one for me as I turn FIFTY in May! WOOHOO. I have been looking forward to this year and will be celebrating all year, especially the first half. I hope you will join me for LOTS of snappy crochet, diy projects, Cricut adventures and family fun.
Make sure you click that banner at the top of this page and sign up for my mailing list. Even if you have in the past, please make sure you do again just to be sure.
To kick off the new year I am giving away 20 patterns to FIVE lucky people. Please scroll down to enter. This is open internationally with free shipping to U.S. addresses.
Last Chance
Our "Seasonally Snappy 2020" year long event starts SOON! Today is the LAST day to sign up for just $12 ($70 value). You can still join in January for $25.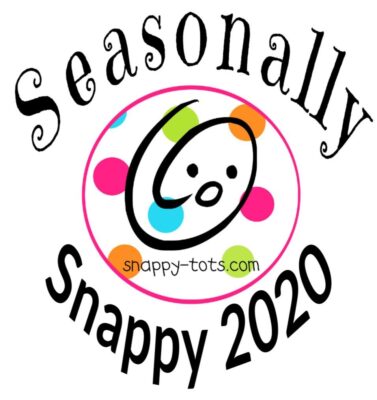 $12 includes a brand new premium snappy pattern on the first Tuesday of each month, plus a bonus pattern only for event members.
---
Today is also the last day of 2019 to purchase a snappy pattern punch card. Purchase a 10/$10 or 3/$5 and download any current or future patterns. These do not expire, but it is the last day to purchase one until (probably) May 2020.
Save 50% off all of my patterns until 2019 ends. No coupon code needed. Discount will be applied in the cart. CLICK HERE TO SHOP.
---
FLASH FREEBIE
This offer has ended.
Get this brand new "Frosted Snowball Beanie" pattern for free to celebrate the New Year. Offer ends 1/1/20 at 2 am mt so hurry and grab a copy.
Use coupon code: happy20
CLICK HERE and add the pattern to your cart. Enter the coupon code and make sure the total changes to free before checking out.
---
Enter To Win Patterns
a Rafflecopter giveaway